QIP - Subscription

Ordering conditions for the QIP Zip files (HTML and MS Excel)

www.schoechi.de/qip-advi.html

---
Sections inside this page : How can I contribute ?
How can I use QIP at home ? Available Files Price
---
For a small fee you can download all the HTML files and the new MS Excel files via the 'files' section within the QIP mailing list at Yahoo.
(details athe end of the page)
A sample of the download-page can be seen here: QIP Download page.
---
How can I contribute to QIP ?

take a look at this page, please !
---
How can I use QIP at home ?
How you can use QSL-Information Page at home :
Download the Country-Index-page of QIP

Download all sub-pages, that are interesting for you (or download one or more of the zip's below)

Put (and extract) all these files into a special folder on your own PC

Make a link (an icon) that goes to the index page qip.html in your folder

Put this icon on your desktop or in the folder with your radio related stuff

Every time you want to look up a certain station, click this icon and choose the regarding sub-page from the start page

Tell me all errors you'll find on these pages and tell me about your old and new QSL's ! Instructions above !

In order to see the country flags on top of the pages, create a sub-folder named 'flags' inside the folder with the QSL files and then extract the zip file 'flags' into that folder.
---
HTML : All html files of each QIP region have been put into a zip-file. Thus there are 10 zip-files for the 10 QIP regions.
Graphics : There is one zip-file including all flags that have been used on the pages of QIP and there are four files with all the maps that have been used here.
Excel : And there are several database-files including all QIP logs (42809 on Sep 18, 2004 ). The files are MS-Excel 97 and contain several columns so that you sort all the columns after your own needs and search for all the info you want to know .. Further files include all recent updates as well as qsl logs before 1990.
Some Files (as of Dec 2003) are available for free at the the old QIP Download page.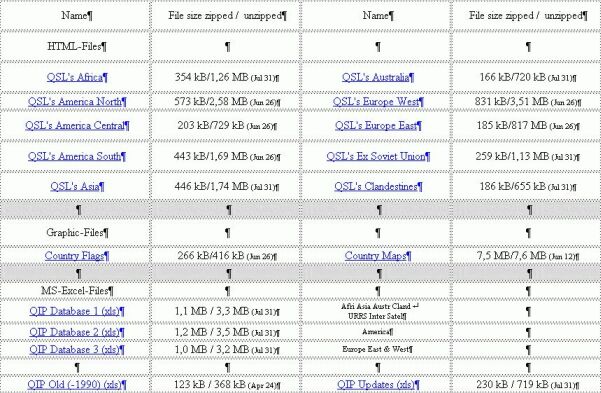 sample-picture of the database (double-click to get a full size pictutre incl. all columns of the database)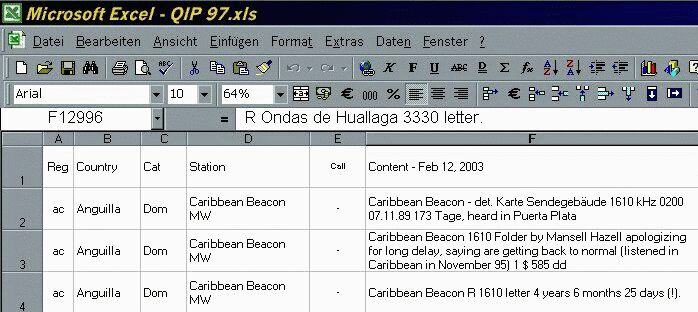 ---
Subscription : Prices

The price for a 'subscription' to access the "QIP-download page" is

3 US Dollar / 3 Euro (for 12 month) or
6 US Dollar / 5 Euro (for 24 month)

Of course you can also combine the access to QIP with the access to my
pirate radio address list PWDB. You can get both lists for the same price.

So if you send in 3 USD you test both (QIP and PWDB) for 12 month,
for 6 USD / 5 Euro you can use them both for 24 month.

I'm also accepting PayPal payments, [PayPaly is my prefered method of payment]


Send your letters to :
Martin Schöch
Postfach 101145
99801 Eisenach
Germany
And if you like my pages you can also
add a few used stamps from your country
as I'm stamp collector, too ..
Martin